ADOS -2 WORKSHOP IS SOLD OUT !
posted December 02. 2019
THURSDAY & FRIDAY, JANUARY 16-17, 2020
8:30am-4:00pm Thursday & Friday
registration begins at 8:00am on Thursday
Participants will learn how to use the ADOS 2 in clinical practice to assess and diagnose autism. 
The ADOS 2 training will be held preceding the 27th Annual Statewide CARD Conference. Registration for ADOS 2 does not include admission to the CARD Conference or PEPSA Day Pre-Conference.
IMPORTANT
ALL PARTICIPANTS MUST HAVE AN ADOS 2 MANUAL.
If you do not have a manual, please use the 'ADOS 2 Clinical Training + MANUAL' ticket option.

All participants will receive a certificate of completion.
Please be aware that only medical doctors and psychologists or SLPs as part of a team may use the ADOS 2 to diagnose. All others may use it as a tool to evaluate an individual for progress.
CONTINUING EDUCATION UNITS
Continuing Education Units are contracted with various brokers. Fees are not assessed by the accrediting agency.
This course is focused exclusively on ADOS-2 and does not discuss other similar or related products.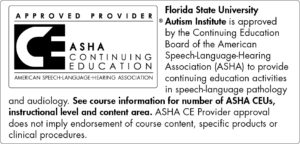 This course is offered for 1.2 ASHA CEUs (Advanced level, Professional area).
 Disclosure: Trainer Dr. Catherine Rice: Financial –Presenter is being paid a speaking fee from Providing Autism Links & Support. Non-Financial – No relevant non-financial relationships exist for this presenter.
CEUs will be available for on-site purchase for $45 per discipline if you do not purchase them as an additonal item with registration. This fee is not charged by the provider. It is charged by the conference organizer.
---
HOTEL ACCOMODATIONS
Florida Hotel & Conference Center
$150*
All ADOS participants are eligible for the CARD Conference group rate. Visit the HOTEL ACCOMODATIONS to learn more about making your reservations.
*Mention 'CARD' for discounted rate.
---
CANCELLATION POLICY
All cancellations MUST be received in writing by the following methods.
Email: pals.florida@gmail.com
Mail:  PALS, Attn:  Cancellation, PO Box 781458, Orlando, FL  32878-1458 
postmarked no later than December 18, 2019

Registration cancellations received on or before the deadline will be eligible for a refund minus a one-time $30 processing fee. Note: The amount refunded will never exceed the amount paid.
Cancellation requests postmarked  AFTER December 18, 2019 and electronic cancellation requests posted after MIDNIGHT December 18, 2019,  will not be eligible for a refund.
Overview
This 2-day workshop teaches, through instruction and live demonstration, how to use the ADOS-2 to clinically assess and diagnose autism.
Description
The Autism Diagnostic Observation Schedule 2 (ADOS 2) has become the standard instrument for assessing ASD across age, developmental level, and language skills. Participants will learn how to use the ADOS 2 in clinical practice to assess and diagnose autism. A combination of lecture, live demonstration, video presentation, and discussion will allow participants to practice scoring while observing the instructor administering the ADOS 2. The course will provide an introduction to the ADOS-2 (Module 1-4) as an assessment tool, and prepare the first step in the process for establishing reliability.  It provides an essential step toward competence in using the ADOS -2 as part of clinical assessment.
Who Should Attend?
Psychiatrists, psychologists, speech-language pathologists, occupational therapists, pediatricians, and other professionals who assess and diagnose autism spectrum disorders. ADOS-2 is intended for use by both clinicians and reseachers working with individuals with autism.