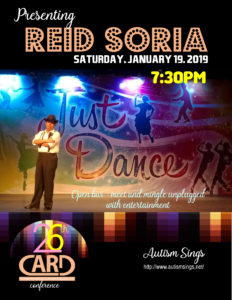 Reid was born in November 1985 at Eglin AFB, FL. One year later his military family was relocated to Europe. While living in Germany, Reid began to show signs of severe developmental regression.
At the age of three, Reid was diagnosed with autism and the prognosis given to his family was very grim. In fact, the only recommendation offered was to place him in an institution, as there was very little hope for any significant progress.  This option was very quickly rejected. There were few resources available to parents  in those days, but his parents were determined to improve quality of life for young Reid.
The years that followed were filled with much hard work, an amazing sister Joanna who always stood by her brother, and many friends, teachers, and others encouraging  and working with Reid and his needs. It was a a long, hard, journey, but one filled with hope and perseverance which has brought Reid to the point where he is now, surpassing all expectations.  He graduated from high school with a special diploma 2004.
About eight years ago, it was discovered that Reid had developed a talent for singing. We were fortunate to connect him  with a local non-profit organization that offers training and opportunities in the visual and performing arts. Reid began to sing in their annual musicals as the lead male actor / vocalist as well as joining the group in performing at many local events. From there he began to receive invitations to provide entertainment as a solo artist  for local events and then to many regional events here in Florida. Eventually, Reid's area of influence spread to adjoining states and now he has traveled as far west as TX, as far south as Miami, up to the Carolinas, and everywhere in between.  He has shared the stage with stars from Dancing with the Stars, Temple Grandin, political figures, and well-known musicians. In 2017, Reid went international traveling to Toronto to perform.